Le 12 Hotel - Paris
48.877117

,

2.322136
185US$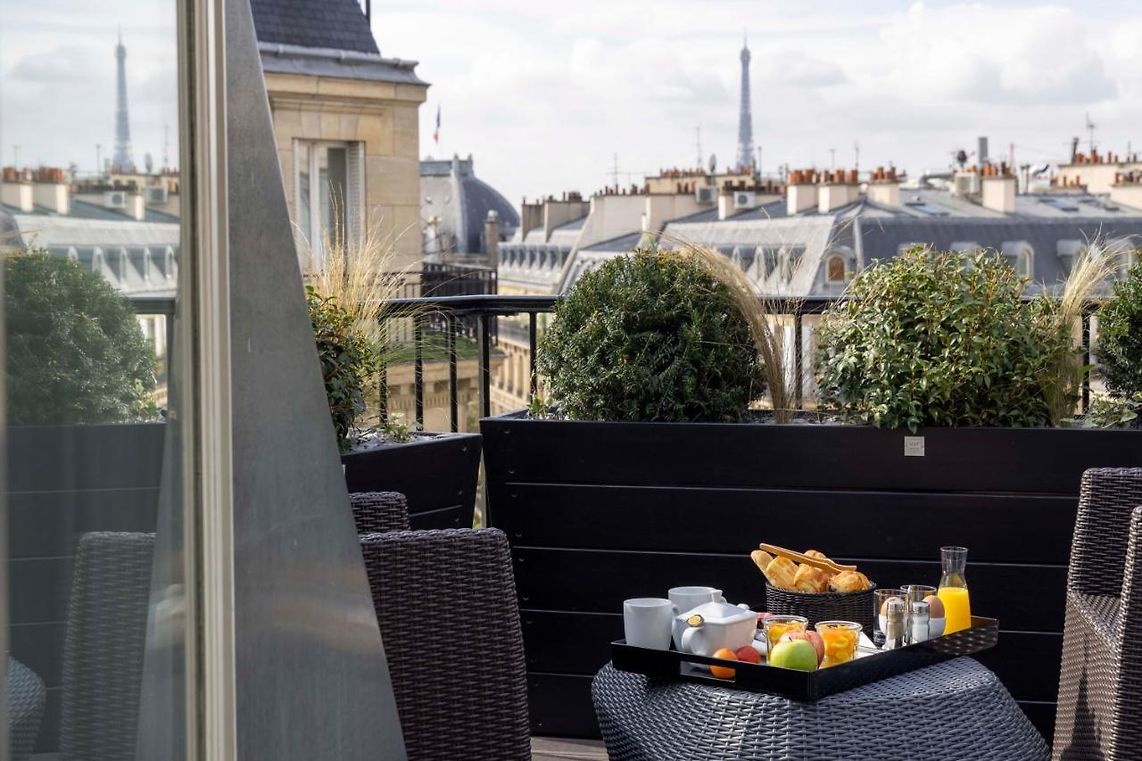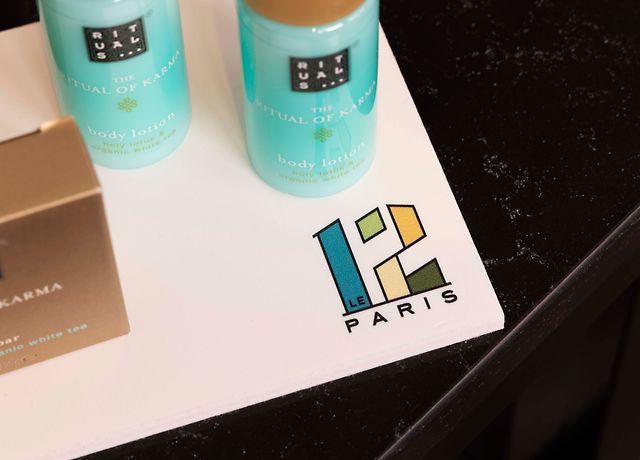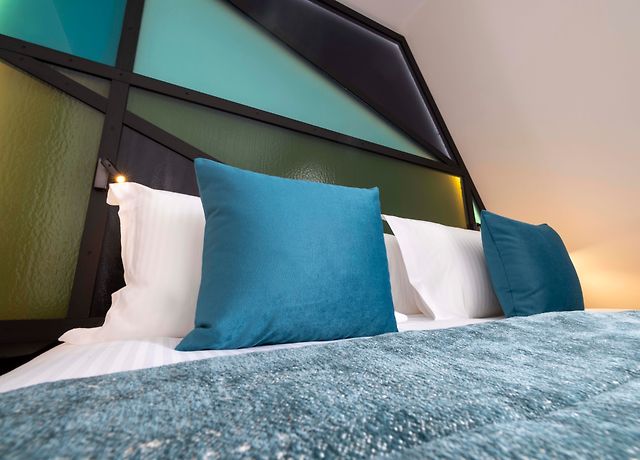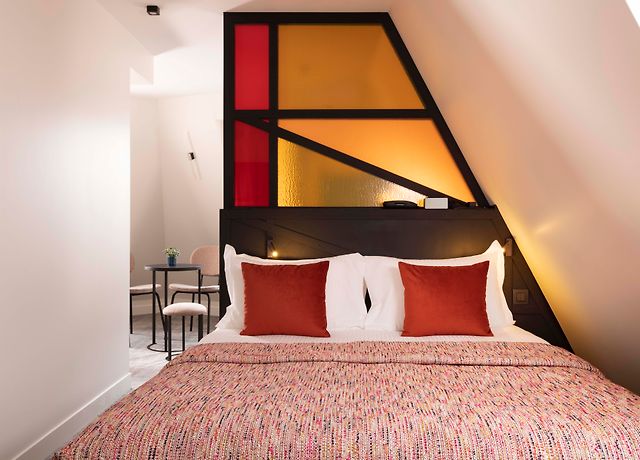 Highlights
Hotel Awards
According to guest reviews, the hotel has been rated as 
Use Badge
Address
12 Rue De Vienne
,
Paris
,
France
,
75008
, Ile-de-France
Overview
This exclusive Le 12 Hotel Paris is set within 25 minutes' stroll from the intricately sculpted triumphal arch "Arc de Triomphe" and about 20 minutes' walk from Grands Boulevards. Boasting location next to Saint Augustin Church, this 4-star designer hotel offers 34 rooms together with a snack bar onsite.
Location
Nested in district 8th arr., this boutique hotel offers proximity to Gare Saint-Lazare. Guests can get to Paris city center, which is 1.9 miles away. Eiffel Tower is just a short drive away.
A 5-minute stroll will take you to Europe subway station.
Rooms
The rooms feature facilities like a minibar as well as TV and Wi-Fi for guests' entertainment. The rooms are fitted with a private bathroom with a roll in shower and a sink, while some feature views of the street.
Eat & Drink
A buffet breakfast is provided daily. Guests can dine at Lazare only a 6-minute walk of Le 12 Hotel.
The hotel offers a full breakfast at the price of EUR 15 per person per day. 
Leisure & Business
Guests can have access to a business area, and make use of computers and a photocopier.
Internet
Wireless internet is available in the entire hotel for free.
Guest Parking
No parking available.
The hotel staff speaks English, Spanish, Italian, Portuguese, Arabic.
Year renovated:   2011.  Number of floors:   6.  Number of rooms:   34.
Former name: Hotel Wilson Opera
Facilities
Most popular facilities
24-hour services
24-hour reception
24-hour security
Food/ Drinks
Welcome drink
Coffee shop
Spa and relaxation
Jacuzzi
Spa & wellness center
General
Wi-Fi
Parking
Baggage storage
24-hour services
Food/ Drinks
Shuttle
Spa and relaxation
Laundry
Services
Paid airport shuttle
Room service
Housekeeping
Laundry
Dry cleaning
Welcome drink
Business
Business center
Fax/Photocopying
Spa & Leisure
Spa & wellness center
Sauna
Jacuzzi
Room features
In-room air conditioning
Heating
In-room safe
Mini-bar
Soundproofed rooms
Sitting area
Tea and coffee facilities
Turndown service
Ironing facilities
Bathroom
Bathtub
Free toiletries
Sink
Self-catering
Electric kettle
Cookware/ Kitchen utensils
Tableware
Media
Flat-screen TV
Cable/ Satellite television
Telephone
CD player
AM/FM alarm clock
Good to know
Check-in
from 14:00-23:59
FREE
Check-out
from 11:00-12:00
FREE
Children & extra beds
There are no cribs provided in a room. 
Pets
Pets are not allowed.
Rooms and availability


Bed options:

2 Single beds or 1 Double bed

Max:

4 persons
City view

Shower

Private bathroom

Coffee machine

Heating

Bed options:

2 Single beds or 1 Double bed

1 Double bed

Max:

2 persons
City view

Shower

Private bathroom

Coffee machine

Heating
Location
12 Rue De Vienne
,
Paris
,
France
,
75008
, Ile-de-France
City landmarks
Nearby
Restaurants
Park
Luxembourg Gardens
2.0 mi
Square
Place de la Concorde
4800 ft
3 Avenue du Général Eisenhower
35 Rue du Chevalier-De-La-Barre
Basilique du Sacre-Coeur de Montmartre
3800 ft
Museum
The Centre Pompidou
1.7 mi
Museum
Musee Jacquemart-Andre
3100 ft
Church
Cathedrale Notre-Dame de Paris
2.3 mi
Bridge
Pont Alexandre III
1.3 mi
Church
Chapelle Expiatoire
2700 ft
Church
The Madeleine Church
3400 ft
Museum
Quai Branly Museum
1.6 mi
Church
Saint Augustin Church
1100 ft
Restaurant
Timees Cafe & coworking
400 ft
Getting around
Train
Gare de Paris-Saint-Lazare
700 ft
You can book a shuttle, once your reservation is complete.
Reviews
missing

We stayed here for three nights and it was perfect! The staff was very friendly and helpful. The rooms are very comfortable. We had a room with a window that opened with a view of a fairly quiet street. This section of Paris is quieter and we appreciated that at night. Easy walking to the metro and a few cafes. The staff was very helpful in arranging a shuttle to the airport, too. We would definitely stay here again!

No cons!

George

The convenience of getting to printemps and being close to saint augustin church. Private parking & loyal staff.

Mark

our pretty room had a terrace. enjoyed the place, amazing stay.

There was nothing I didn't like!

missing

Great location - 2min. from Saint Lazare where you have all connection from the entire Paris. The hotel is very clean, modern and it is a real pleasure to be there. In the night please try to use the taxis because the Metropolitan is not very safe in my opinion.

missing

The staff were very helpful and friendly and we had access to a computer and the internet

missing

I liked the style of the hotel, the comfortable bed, large flat screen TV, the balcony and partial view of the Eiffel Tower, the quiet, the details like coffee, nice soaps, and shampoos, free internet in the lobby, the location was pretty decent. Very near a metro.

I didn't like the pillows (too hard!) and I didn't like that there wasn't a proper hairdryer. Only the kind that looks like a vacuum. That surprised me.

missing

Convenient Location, nice room

Different persons had different quotations for shuttles to airport

missing

The front desk staff were well versed in English which was a huge advantage for my son and I. Realizing that space is prime in Paris, I feel that the room was well designed. Comfort was not comprimised. Shower tub would be great with a shower curtain. The half tub glass closure didn't quite do the job of keeping the water in the tub. Complimentary wi-fi was good for us to check emails daily. The location close to St.Lazare metro station was a big plus. I would stay there again without hesitation. Cost was a little high but well worth it after a long day of visiting Paris.

No complaints, but a small recommendation to have shower curtains for the bath tub, instead of the half glass closure.

missing

Maybe the best stuff in hotel I've ever met! I liked staying in that hotel. Good location - metro nearby, not far from beatutifull Parc de Monceau, Montmartre.

not big rooms, but that's usual for Paris. Despite of the size, rooms are quite comfortable

missing

Restorated and clean little hotel with friendly, polite, helpful staff which is not used to see in Paris.. In one word, it is a modern, spotless little paradise beside old and narrow streets and in confliction of Paris..People may find it small, but it should be considered to think about price/advantage balance.. It is absoulately recomended by me!..

missing

Good location for exploring sights and shopping. Very friendly staff. Room is small but comfortable.

TV set was living on it own.

missing

Yadir was very knowledgable and friendly. She was great!

missing

Lovely fresh hotel, well designed room, quiet location close to everything. The bathroon was brilliant. Defenetly the best three star hotel I have seen.

Wireless internet was not working on the first day, but then it was ok. Cleaner lady came to the room even "do not disturb" sign was on the door, well she was very kind anyhow.

missing

The hotel was small, but very cute. Hotel Staff was incredibly helpful and friendly. It was a little bit of walk from the main tourist sites, but everything is accessible through a longer walk, the metro, or a cab.

missing

very nice, comftable room
FAQ
Which airport is the closest to Le 12 Hotel?
Le 12 Hotel is located 13 miles from Orly airport.
Can I have breakfast at Le 12 Hotel Paris?
Yes, an continental breakfast is available for guests at Le 12 Hotel Paris.
Does Le 12 Hotel offer facilities for business travelers?
Yes, Le 12 Hotel offers computers and a photocopy machine for business guests.
How far is Le 12 Hotel Paris from the city center?
The city center is located 1.9 miles away from Le 12 Hotel Paris.
Are there any cleaning services provided at Le 12 Hotel Paris?
Yes, Le 12 Hotel Paris provides room service and laundry.
Is there Internet connection at Le 12 Hotel?
Yes, at Le 12 Hotel guests can use high speed internet access throughout the property.
What landmarks can I find in vicinity of Le 12?
Arc de Triomphe is worth visiting, plus it is set nearly a 25-minute walk away from Le 12.
How can I spend my leisure time at Le 12 Hotel Paris?
There are a library, a bar and entertainment activities provided at Le 12 Hotel Paris.
Where can I find Le 12 Hotel?
Le 12 Hotel is placed in the center of the city, within 1.9 miles of Eiffel Tower.
Can I have lunch or dinner next to Le 12 Hotel?
Guests can visit Lazare restaurant placed within a 6 minutes' walk of Le 12 Hotel.
How much does it cost to stay at Le 12?
The price for a room in Le 12 starts at €181.
Is there any public transport close to Le 12 Hotel Paris?
Yes, there is Europe subway station within 700 feet of Le 12 Hotel Paris.